The Lockerbie Bombing
On 5 December 1988, the US Embassy in Helsinki, Finland received a call from a man with an Arabic accent claiming a Pan Am flight from Frankfurt, Germany to the US would be blown up by the Abu Nidal Organisation. Though this threat was not carried out, weeks later on 21 December, Pan Am Flight 103 from London Heathrow to New York JFK International was destroyed by a planted bomb. 243 passengers and 16 crew members were killed, along with 11 people in Lockerbie, Scotland, who were killed by falling plane debris.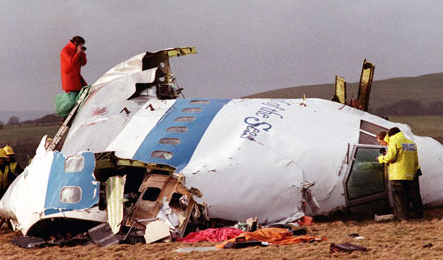 A three year investigation ensued, conducted by Dumfries and Galloway Constabulary and the FBI. The US Federal Aviation Administration conducted an immediate analysis of the plane, which included a fingertip search of the crash site, helicopter surveys, and satellite imaging. It was discovered that no emergency procedures had been started and no distress signal was sent. The explosion, consistent with a bomb in the forward cargo hold, was caused a 20-inch-wide puncture in the left side of the fuselage, causing the aircraft to quickly disintegrate. Apparently the perpetrators had initially planned on crashing the plane into the sea, thus destroying any traceable evidence. However as this did not go to plan, it was possible to identify those responsible. During a search of the baggage area of the plane, fragments of a Samsonite suitcase found were believed to have contained the bomb. Pieces of the circuit board of a Toshiba Bombeat radio cassette player, as well as shards of baby clothes proven to have been made in Malta. These clothes were races back to merchant Toby Gauci, who claimed he had sold the clothes to a Libyan man later identified as Abdelbaset Ali Mohamed Al Megrahi. The circuit board was part of an electrical timer similar to that found on a Libyan intelligence agent who had been arrested 10 months previously for carrying the materials for a Semtex bomb. This timer was traced back to Mebo, a Swiss manufacturer who identified Megrahi. Further information agreed with this identification. A bag had been routed onto the Pan Am 103 flight via a baggage system at Frankfurt around the time bags were unloaded from flight KM189 from Malta. Additionally, security guard Ray Manley had reported that Heathrow's Pan Am baggage area had been broken into 17 hours before the flight, though this report was misplaced.
The trial was held on 31 January. Abdelbaset Ali Mohamed Al Megrahi was convicted of involvement in the bombing and sentenced to life in prison. However on 20 August 2009, due to suffering from terminal prostate cancer, he was released on compassionate grounds to return to Libya.