Lindy Chamberlain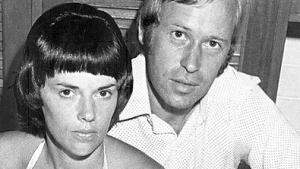 On 17 August 1980, Lindy and Michael Chamberlain were camping with their two children at Uluru in Australia's Northern Territory. At about 10pm that night, the two of them heard a cry from the tent in which their 4-year-old son and 10-month-old daughter, Azaria, were sleeping. Lindy ran out to the tent where she witnessed a dingo nearby. Upon entering the tent she discovered a pool of blood and her baby daughter missing.
Police were soon called to the scene but, although they searched for hours, found nothing. The Chamberlains were interviewed numerous times, though it was not until a later interview that suspicions arose. Soon enough a tourist discovered a baby's vest and jumpsuit, later confirmed to be the baby's. A forensic examination of these clothes concluded that there were no dingo bite marks or saliva present on the clothes. Unfortunately not all of the available evidence had been collected from the crime scene, so an extensive examination could not be conducted. Despite these suspicions, it was concluded that Azaria had in fact been taken by a dingo and the couple were not detained. However a later analysis of the baby's clothing revealed some shocking evidence. A blood print was found on the clothes, a print in the shape of a woman's hand. This was sufficient to reopen the case, and the investigation resumed. An analysis of the Chamberlain's car revealed a pair of scissors and Azaria's blood. Numerous experts claimed that the tears in the baby's clothing were actually made by a pair of scissors.
On 2 February 1982, a court case was held, after which Lindy Chamberlain was convicted of murder and sentenced to life. However after serving just six years, the baby's jacket was surprisingly discovered party buried at Uluru, acting as sufficient evidence to trigger Lindy's release from prison.