Colin Pitchfork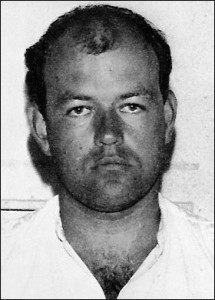 Colin Pitchfork is a well-known name amongst some crowds, infamous for being the first criminal to be convicted of murder based on DNA evidence.
On 21st November 1983, 15-year-old Lynda Mann set off from home to visit a friend. However she did not return from this trip, and her body was found on a lonely footpath the following morning. A post-mortem revealed that she had been raped and strangled, and a semen sample was retrieved from her body. Unfortunately any lines of enquiry resulting from evidence recovered reached dead ends and, although the case was left open, there were no remaining leads for investigators to follow. The case went cold.
A few years later, on 31st July 1986, another 15-year-old girl went missing, Dawn Ashworth, this time whilst walking home. Her raped, beaten and strangled body was discovered in a wooded area two days later. The previous case of Lynda Mann was soon pulled back into the limelight as a semen sample was discovered on the body of Dawn. With new lines of enquiry and a fresh burst of interest, the investigation could now continue.
Initially police believed the rapist and murderer to be 17-year-old Richard Burkland who appeared to have knowledge of Dawn's body and even admitted to the crime under questioning. The previous year at the University of Leicester, a promising new technique had been developed by Alec Jeffreys and his team, allowing for a unique DNA 'fingerprint' to be produced from a DNA sample. Eager to put the new method to use, the DNA fingerprinting technique was utilised, however only to prove that Burkland's DNA profile did not match that of the two semen samples.
With no further leads, the Leicestershire Constabulary and the Forensic Science Service teamed up to conduct a project in which 5000 local men were asked to give a blood or saliva sample for DNA testing for comparison with the suspect's DNA profile. Thousands of samples and six months later, no match had been found. However a break in the case was yet to come, when local man Ian Kelly was overheard in a bar bragging about being paid £200 to give a DNA sample for one of his friends. That friend was local baker Colin Pitchfork.
On 19th September 1987, Pitchfork was arrested. A DNA sample was taken and matched to the crime scene samples, and the truth soon came out. He admitted to the rape and murder of the two girls, and went on to explain his fetish for flashing females, an impulse that had soon led to sexual assault and finally murder.
Pitchfork was sentenced to life imprisonment, and is eligible for release in 2016.
Butler, J. M. 2010. Fundamentals of Forensic DNA Typing. London: Academic Press.